CALL FOR ENTRY

2017 Annual Student Show: Call For Entries
Deadline for submissions: Monday February 13, 2017 midnight
Juror: Jude Landry, Graphic Designer
The SOD invites all current Tech Students to submit 2D, 3D and video works to the Annual Student Exhibition. The 2017 Juror is Jude Landry, Graphic Designer.
Juror Bio:
Jude Landry is a graphic designer specializing in illustration and lettering. Born in the swamps of Louisiana, he currently lives in the Dallas/Fort Worth area where he teaches graphic design at the University of North Texas. Jude also enjoys creating silkscreened art prints and t-shirts which he sells online and at art festivals.
https://artlatech.slideroom.com/#/Login to submit
http://support.slideroom.com for online image/video prep help
The Annual Student Show is open to all Louisiana Tech University students. Work musthave been produced while enrolled as a Tech student. A maximum of five entries per individual is allowed.
Submission Guidelines:
No more than 5 entries are allowed.
Submission fee is $5.00
Application materials must be received online via http://artlatech.slideroom.comno later than 11.59 pm on Monday, February 13, 2017.
Communication regarding acceptance to the exhibition will be via email. Please do not call or email for acceptance updates.
 Image Recommendations: (additional assistance and details for image preparation can be found at http://support.slideroom.com)
Suggested image settings for best possible quality and ease of viewing for juror:
– .jpg file format
– sRGB color profile
– 1024 x 768 pixels for image files. Image submissions should not be larger than          5mb per file
– Video format should be .MP4 or .MOV format and be no longer than 5              minutes. Videos should be no larger than 640 pixels on the longest side, and up to 250mb.
– Work can be any media but accepted works must be received at the gallery framed (where appropriate) and ready to hang. The only suitable hanging hardware options are D-rings, eye screws and a wire, or cleats. NO sawtooth hangers will be accepted.
–   The gallery will not be able to accept framed work with glass. Use plexiglass only.
For specific questions and more information contact Gallery Director, Nicole Duet at
nduet@latech.edu
Important Dates:
February 13: online entry deadline
February 21: students notified of acceptance into show
March 13 and 14, 8 am – 4.30 pm: delivery of accepted artwork
March 21: 5 pm: juror lecture
6 pm: exhibition opening
March 21- April 3: exhibition dates
April 4 and 5: pick up of artwork
HOW TO USE SLIDEROOM
Slideroom steps:
Click on the link and create an account in Slideroom if you don't already have one.
https://artlatech.slideroom.com/#/Login to submit
http://support.slideroom.com for online image/video prep help
Once you sign in and have your images set to the right size, you will upload them here:
Once the upload is complete, BE SURE to fill in the work description: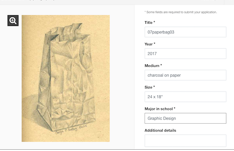 After you have uploaded and titled all your images, the final step is payment by credit or debit card only. Your submission is not complete until you submit payment.