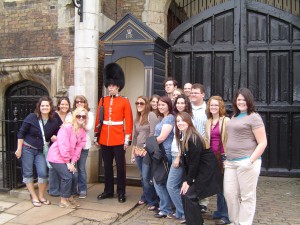 London – Summer 2016
June 3 – 26, 2016
INTEREST MEETING
Thursday, October 15th 4:00 PM – G.T. Madison Hall 219
STUDY ABROAD IN LONDON AND SOUTHERN ENGLAND
6 hrs. credit for a 3 week concentrated adventure !
TRIP COST $4,100*
Faculty:
Professor Emeritus Dr. Kenneth Robbins
krobbins@latech.edu
Professor Dr. Dorothy Robbins
drobbins@latech.edu
Tech / London, a three week study tour of London and Southern England, offers a generous sampling of world literature, history, and drama as performed on the English stage and opportunities to experience contemporary British art, literature, and culture up close and personally.
Students visit a wide range of cultural sites and experience literature from the earliest forms to the most modern in London and Stratford-Upon-Avon (Shakespeare's birthplace and home of the Royal Shakespeare Company).  The program includes professionally guided tours, chosen from the following, of London, Stonehenge, Chawton (Jane Austen's home), Canterbury Cathedral, Dover Castle, the Globe Theatre and the National Theatre, Charleston House, and the Shakespeare Birthplace Properties.  Ample opportunity for students to participate in independent travel, visit galleries, museums, the British Library, sightsee, and shop are included in the itinerary.
Devised for students of English, theatre, and other disciplines from the humanities, TechLondon is open to all Louisiana Tech students as the program fulfills the International Education Requirement and in the past has provided opportunities for students to obtain honors as well as GER credits.   Students receive six (6) hours credit from a list of classes devised once the faculty for the project has been determined.  Program costs cover all aspects of the three week study tour, in-country travel, housing, tickets to all program activities, travel insurance, and one meal a day.
Who is eligible: any LaTech student, undergraduate or graduate, who holds a valid passport. All participants will be required to possess a cell phone with international calling potential.
Accommodations: double occupancy en-suite rooms in the Bloomsbury area of London (near Kings Cross); laundry and kitchen are in-house; wifi available; library on-site; conveniently located to all of London via underground and bus lines.
_________________________________________________________________
* $4,100 is an estimate and will vary according to the number of participants and the exchange rate at the time of booking
Program to include: In-country travel, housing, travel insurance, entry fees to sites visited, and several meals. Welcome tour of London, visits to the British Museum, Westminster Abbey, St. Paul's Cathedral, the British Library, the Tower of London, Shakespeare's Globe Theatre, Harrads, Regency Park, Hyde Park, Baker Street, the Charles Dickens House, the National Theatre, numerous royal art museums, day trips to Canterbury, Sussex, Charleston Farm, and other sites; over-night trip to Stratford-Upon-Avon for visits to Shakespeare's birthplace, Ann Hathaway cottage, Shakespeare's grave and possible stopover visits to Oxford and/or Blenheim Castle; attending various arts events to be determined. The Program will allow the possibility of long weekend excursions to Paris, Edinburgh, Dublin, or other European destinations at the student's expense and with program approval.
Not covered: Round-trip airfare for student participants (estimate $1,700 from Monroe)
Tuition and fees, independent travel, incidentals, most meals.
_________________________________________________________________
If you are working with the Financial Aid Office. Contact Pat Elmore at pelmore@latech.edu for more information. Start early!