Artist Talk: Tuesday, October 11th, 5 pm
Artist Talk: Stephen Eakin, Remains
Tuesday, October 11th at 5 pm (free and open to the public)
Louisiana Tech University School of Art (Visual Arts Center), room #103
Visual Arts Center is located at 1 Mayfield Street, Ruston, LA 71272
(between Tech Drive and Mayfield Street, next to the Natatorium, and across from A.E. Phillips School)
Come and hear Stephen Eakin speak about his work at the School of Art!
Stephen Eakin is currently exhibiting a site-specific installation at the School of Art Bellocq Gallery. His talk, Remains, deals with Eakin's use of objects, memory, and the experience of loss in his artwork.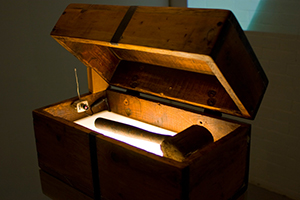 More info on the artist
Statement
I mine and remove things from personal history and familial narrative. I subsequently place them in a setting that redefines them as precious relics, art objects, or both. This action posits the politics of memory, history, and our identities after we are gone. I experiment with an object's context (or lack thereof) in an effort to seek where the object's voice meets the voice of its viewer, if at all. The imbuing of meaning in an artwork is parallel to the imbuing of memory in objects. Art is fundamentally linked to mortality, and complicated by that relationship.
"At the origin of painting and sculpture there lies a mummy complex. The religion of ancient Egypt, aimed against death, saw survival as dependent on the continued existence of the corporeal body" – Andre Bazin, The Ontology of The Photographic Image
Bio
Born in Panama City Florida during the summer of 1981, Stephen Eakin received a B.F.A. from University of the Pacific in Stockton, California, and an M.F.A. from the University of Minnesota, Minneapolis in 2007. He returned to Stockton to teach as an Adjunct Professor at University of the Pacific, Sacramento State University and American River College in Sacramento. He has exhibited video, film, installation, and sculptural projects in Minneapolis, Reno, Berkeley, Sacramento, Stockton, New York City, Kalamata, Winnipeg, and Texas. He is currently working with the Brooklyn based arts collective Non Solo, and has an upcoming two person exhibition at the AC Institute in Chelsea this coming January. He currently resides in Brooklyn, New York, and is a resident artist at Hunter College in Manhattan.