Public Art Project: A collaboration between Louisiana Tech and AE Phillips students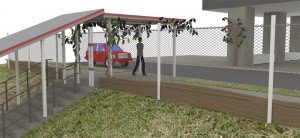 Unveiling/ Reception: Thursday, February 16, 3 p.m. free and open to the public work will remain installed at locations after the reception for at least 1 month
Location: The entrance to the playground at AE Phillips School on Mayfield Street in Ruston, Louisiana, across the street from the Louisiana Tech University F. Jay Taylor Visual Arts Center.
Hours: Outside of the reception date and time, the work is public and therefore available for viewing at any time during the day. We encourage the public to stop by and see the work within one month of the reception.
Students from the Louisiana Tech School of Art class, Art in Public Places, taught by Jes Schrom, and the A.E. Phillips' Talented Art students, instructed by Maggie Boudreaux, are currently collaborating on the creation of a public art work to be installed at both locations.
The motivation behind the project is to instill an understanding of how art and community can connect and relate to one another, to promote a strong relationship between earlier and later stages of education, and to symbolize growth in all stages of life. The process of proposing, refining, and implementing a large scale public art work with multiple individuals of various skill sets has exposed both groups of students to new ways of thinking and executing creative ideas. Both AE Phillips and Tech students were asked to produce site-specific proposals for the dedicated spaces. From these designs, the chosen project emerged and all individuals have been working diligently to bring it to fruition.
The materials used are common, everyday items transformed into something greater than their individual parts, much like a school or community. Recycled plastic bags, donated tarps, and twine combine into trees,
branches, and leaves. Additional participants are also invited to contribute to the work, by writing their answer to a given question on a leaf that will be added to the tree.
We hope the project will encourage discussion among community members and introduce art in a nontraditional way. We also hope that the work will successfully represent the many voices, viewpoints, and abilities of artists in the area, from young to old.
Those involved in the project would like to thank Pearce Lumber, Ruston's Wal-Mart, and many generous individuals for their donations.