Slaughter's Work in National Shows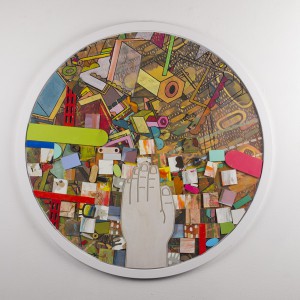 Recent work of Assistant Professor of Art Joey Slaughter is on exhibit in two national shows, one at the Memphis College of Art and another at the ADA Gallery in Richmond, Virginia. Slaughter is also exhibiting at Grambling State University and Shreveport, Louisiana.
From the Richmond Arts Review, "Joey Slaughter's work 'This  Very Moment' in acrylic on panel had an application that almost reminded me of Mark Rothko, until I noticed the patterns juxtaposed on the quiet fields of color. Slaughter's statement references digital information as distraction, and draws upon objects such as furniture and toys to create his own symbols."
And from the Memphis Flyer, "Joey Slaughter's 'I meant to get back to you, but I had a lot going on,' in the Alumni Gallery. The title refers to all the information and options at our disposal. Slaughter states, 'The simple task of communicating is even harder than ever because of the multitude of choices available.'
"Slaughter, who graduated from MCA in 1997, received a grant from the Louisiana Division of the Arts to help fund the creation of the nine works in this exhibition. He used the money to produce a series of pieces that 'investigate the 'look' of digital information as it is transmitted around us.' This is overt in Hill and Valleys #2 and Outage, where power lines and cell-phone towers are as much a part of the landscape as pin oaks and dogwood trees. His investigation is somewhat covert in Spark and Take a Breather, where the influx of digital information is ever-present."
"Slaughter takes this exploration a step further by using digital technology such as lasers and CNC routers, along with traditional art-making applications, which results, Slaughter says, 'in a blend of tight and loose, machine and man … [that] allows for a play of spontaneity and precision.' His show is an interesting comment on the overabundant and ubiquitous role that technology and its various devices have on our lives."
Busy, busy, busy !
Well done Joey Slaughter.