Cedar Creek Students Visit
We were glad to host 33 students from Cedar Creek High School today. They were able to tour our facilities and view the Louisiana Purchase Exhibition as well as Tech art students' work. It is always a pleasure to share what we do with others. We hope some of these talented high school students will be joining the School of Art in the near future.
Thanks to Cedar Creek art teacher MaryAnn Willoughby and the other faculty who helped make this visit possible.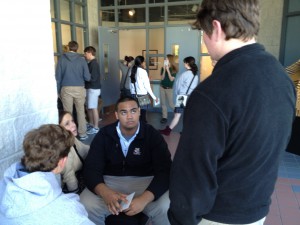 We welcome visitors to our facilities. For more information about setting up visits, please feel free to contact us.