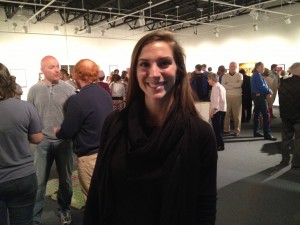 On Tuesday evening, March 19, the School of Art hosted an opening reception for the Annual Art Students' Exhibition. Cristin J. Nunez, the Assistant Director of Cole Pratt Gallery in New Orleans was this year's juror and preceded the opening with a special talk about this year's student work.
Selected of note this year were –
Best of Show / BFA  RHYAN EMERY TAYLOR
Best of Show / MFA  JOLI LIVAUDAIS
Best of Core  ELIZABETH LENOX
Best of Communication Design  CHRIS HARRIS
Best of Photography  JOHNATHAN COURTER
Best of Studio  MARGUERITE HOGUE
Honorable Mention (Red River Paper)  WHITNEY HICKS
Honorable Mention (Red River Paper)  SOPHIA MARAS
Honorable Mention (Red River Paper)  CASEY PARKINSON
Honorable Mention (Red River Paper)  PETER HAY
Honorable Mention (The Frame Up)  JESSICA VAN ALSTYNE
To quote Ms. Nunez, "Seventy-nine impressive undergraduate and graduate students submitted art for consideration this year.  It was very rewarding to review all of the entries, which ranged from traditional oil painting to video installations to fiber art.  Just as there was a variety in media, there was also a variety in subject matter, and although there is no connecting theme between the selected works, it was refreshing to see such differences in the artists' personalities".
Congratulations to all of our students who participated in this year's exhibition.