Exhibition to open September 15, 2014 with lecture by artist MICHAEL PETRY at 5PM
Michael Petry: Kali
Cig Harvey: You Look at Me Like an Emergency
---
Opening Reception:
Monday, September 15, 2014 / 6PM
Artist Lecture featuring: MICHAEL PETRY
Monday, September 15, 2014 / 5PM / VAC 103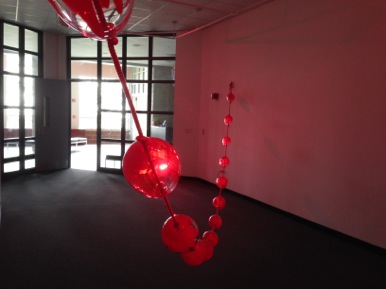 http://www.michaelpetry.net/index.html
Michael Petry (b. Texas, 1960) has lived in London since 1981. He studied at Rice University, Houston (BA), London Guildhall University (MA), and has a Doctor in Arts from Middlesex University. Petry is an artist, author and Director of the Museum of Contemporary Art (MOCA) London, and Guest Curator for Futurecity.  He co-founded the Museum of Installation, and was Guest Curator at the Kunstakademiet, Oslo, and Research Fellow at the University of Wolverhampton and was Curator of the Royal Academy Schools Gallery. Petry is a Fellow of the Royal British Society of Sculptors (FRBS) and a Brother of the Art Workers Guild. Petry co-authored Installation Art (1994), and Installation in the New Millennium (2003), and authored Abstract Eroticism (1996) and A Thing of Beauty is…(1997). The Trouble with Michael, a monograph of his practice, was published by Art Media Press in 2001.  Petry's book Hidden Histories: 20th  century male same sex lovers in the visual arts (2004) was the first comprehensive survey of its kind, and accompanied the exhibition Hidden Histories he curated for The New Art Gallery Walsall. His two-volume book Golden Rain (2008) accompanied his installation for the On the Edge exhibition for Stavanger 2008, European Capital of Culture. Petry's book, The Art of Not Making: The New Artist Artisan Relationship for Thames & Hudson was published in hardback in 2011 (paperback, 2012).  Petry was the first Artist in Residence at Sir John Soane's Museum (2010/11) exhibiting two bodies of work, published in Smoke & Mirrors (2011). His recent one man show The Touch of the Oracle at the Palm Springs Art Museum (2012) was accompanied by a ten year career review book distributed by Thames & Hudson. His new book Nature Morte: Contemporary Artists reinvigorate the Still-Life tradition, was published in 4 hard back editions, Thames & Hudson (UK/American), Hirmer (German) and Ludion (Dutch). Petry will be giving talks on the book in 2014/15.
---
Artist Lecture featuring: CIG HARVEY
Tuesday, September 23, 2014 / 11AM / VAC 103
The photographs and artist books of Cig Harvey, MFA, have been widely exhibited and remain in the permanent collections of major museums and collections, including the Museum of Fine Arts, Houston, Texas; the Farnsworth Art Museum, Rockland, Maine; and the International Museum of Photography and Film at the George Eastman House, Rochester, New York. She was recently nominated for the John Gutmann fellowship and a finalist of the BMW Prize at Paris Photo and the Prix Virginia, an international photography prize for women. Cig had her first solo museum show at the Stenersen Museum in Oslo, Norway, in the spring of 2012 in conjunction with the release of her monograph, You Look At Me Like An Emergency (Schilt Publishing, 2012). Her second book, Gardening At Night, will be released in the spring of 2015. Cig's devotion to visual storytelling has lead to innovative international campaigns and features with New York Magazine, Harper's Bazaar Japan, Kate Spade, and Bloomingdales. Cig teaches workshops and regularly speaks on her work and processes at institutions around the world. She is known for her high energy, sense of humor and creativity. She brings a profound sense of optimism to all that she does.
Cig lives in a farmhouse in the Midcoast of Maine with her husband Doug (who has the profile of an emperor on a Roman coin), their wayward daughter Scout, and Scarlet the dog (the original baby). She was an assistant professor at the Art Institute of Boston at Lesley University for ten years, but recently took a leap of faith to devote her life to purely making things. She tries to do this every day, and then pretends to clean up the mess she's made with varying degrees of success.
Dress forms for Cig Harvey generously provided by:
The Fabric Shop, 100 W Park Ave, Ruston, LA 71270