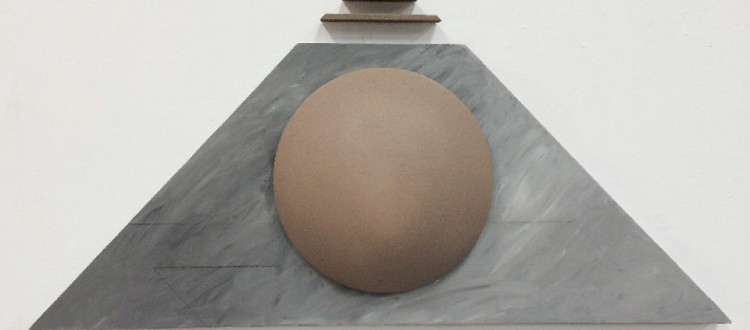 Professor Emeritus Dablow to Exhibit New Work
Dean Dablow, Professor Emeritus of the School of Design, will present an exhibition of his new work at Studio 301 September 11 through October 30 with an opening reception scheduled for September 11 from 6-8pm. Everyone is invited to attend.
Although known for his photographs, Dablow began his career as a painter and returned to this medium upon his retirement from Tech in 2007. Of this return to painting Dablow says, "I considered myself a painter in undergraduate school and produced shaped canvases during my senior year. I continued this idea in graduate school while minoring in sculpture. However, I mostly set aside any other media interests for my camera work when I graduated and was hired as head of the Photography Department at Tech. When I retired from academia I wanted another challenge, just as photography had challenged me early in my career as an artist. I did not want to make conventional paintings and I began my quest by using tricks of visual psychology called "extension" and "closure." Parts were cut out of masonite panels, painted in glossy color, and placed on a wall in close proximity visually suggesting a whole. This idea gradually evolved into singular objects that I shape. The paintings have evolved into more painterly abstraction suggesting atmosphere by building up layers of paint to reveal underlying color. I have also introduced linear graphite elements that dive in and out of the surface, enhancing the idea of atmospheric interplay. I also show my brushwork, revealing an evidence of the hand. I believe it instills a humanizing factor in the work."
Dablow will also show a new series produced this summer titled Timepieces from Distant Planets. He states, "Time is an invention of man based on our planet's axial spin and annual revolution around our star. This relationship would not be the same on planets of other star systems. The idea presents an unknowable mystery."
Anyone interested in a private viewing is welcome to call 318.614.4057 for an appointment. Studio 301 is located at 301 Trenton Street, Ruston.