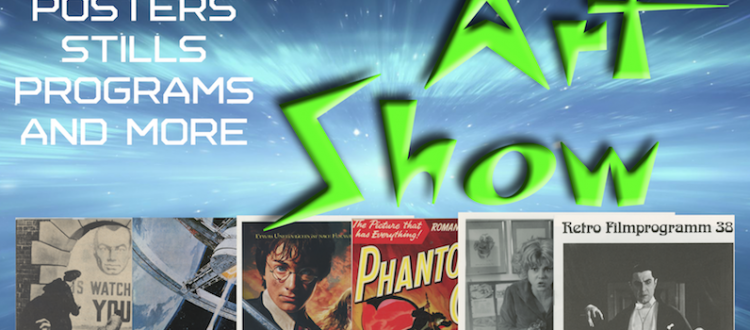 Zalesch Curates Sci-Fi & Fantasy Movie Art Exhibition
The world of books has a monumental influence on popular art, and movies are some of the most complex homages to the written word. Explore the dazzling world of science fiction and fantasy books brought to life through the medium of movie art as we welcome a collection of movie posters and related art from the collection of local professor Dr. Saul Zalesch to the Chautauqua Gallery at the Lincoln Parish Library during National Library Week. Zalesch and Dianne Douglas have co-curated a collection that showcases an incredible breadth of material from movies old and contemporary and is suitable for any audience.
This is the first of several exhibitions of movie posters and other movie-related paper that will be mounted by the Lincoln Parish Library over the course of the next year. The movies featured in these shows all began as books. This show features science-fiction, horror, and fantasy movies. The second showcases action/adventure films, including Westerns. The third will spotlight classic stories, ranging chronologically from antiquity and the Bible to those by authors like Fitzgerald and Faulkner.
This exhibition is arranged chronologically by the birth year of the author of the featured books turned into films. It begins with Mary Wollstonecraft Shelley (1797-1851), who practically created the Horror genre with Frankenstein, or the Modern Prometheus (1818) and concludes with posters from Suzanne Collin's (b.1962) Hunger Games and J. K. Rowling's (b.1965) Harry Potter films. Particular emphasis is given the most-famous stories, such as Frankenstein, Dracula and Dr. Jekyll and Mr. Hyde, and comic book favorites Superman, Batman, and Spiderman, but we attempt to provide a diverse selection of posters, photographs, programs, etc. for representative stories by the most famous sci-fi and horror authors, from Mary Shelley, Edgar Allan Poe, and Jules Verne to Isaac Asimov, Stan Lee, and Stephen King.
This exhibition does not contain dramatic and exciting posters from the famous film versions of classic sci-fi and horror stories like Frankenstein (1931), Dracula (1931), The Invisible Man (1933), War of the Worlds (1953), Time Machine (1960), and others like them. These are highly collected and sell, when they become available, for extremely high prices. (The highest price ever paid for a movie poster was $450,000, for the one-sheet from The Mummy (1932).) The collection from which this show is drawn is intended for the use of film scholars and other historians and therefore avoids expensive, well-documented movie artifacts. The collector has acquired tens of thousands of documents of film history for what a single highly-sought specimen might cost. The older posters displayed here show visible creases, because before the 1990's, posters were shipped to theaters folded.
This exhibition was organized and curated by Saul Zalesch, Associate Professor of Art History at Louisiana Tech University. All of the artifacts exhibited come from his personal collection. The show is co-curated by Dianne Douglas, retired Professor of Foreign Languages at Louisiana Tech. For more information, contact Sarah Creekmore Administrative Assistant at 513-5516 or screekmore@mylpl.org
(FROM LINCOLN PARISH LIBRARY)