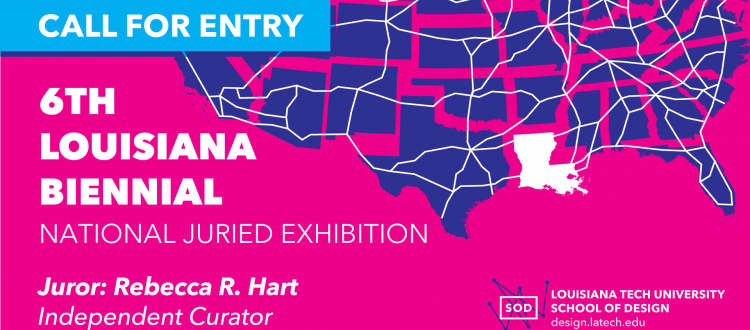 CALL FOR ENTRY: 6th Louisiana Biennial National Juried Exhibition
CALL FOR ENTRY

6th Louisiana Biennial:
National Juried Exhibition
Louisiana Tech University
January 25 – February 15, 2022
Louisiana Biennial: National Juried Exhibition is open to artists in the US making 2D, 3D and video works exploring any theme. Juror is
Rebecca R. Hart
, an Independent Curator, and formerly the Vicki and Kent Logan Curator of Modern and Contemporary Art and 
Department Head
of the Denver Art Museum 2015-2021, as well as Associate Curator and Department Head at Detroit Institute of Arts (DIA) 2005-2015.
Rebecca R. Hart joined the Denver Art Museum as the Vicki and Kent Logan Curator of Modern and Contemporary Art in 2015. She organized Audacious: artists speak out; Mi Tierra: contemporary artists explore place; Shade: Clifford Still / Mark Bradford; Eyes On series with solo exhibitions for Xiaoze Xie, Shimabuku, Erika Harrsch, Jonathan Saiz, and Anthony McCall; Jordan Casteel: Returning the Gaze, the first museum exhibition for the Denver-born artist. Hart was the venue curator for Senga Nengudi: Topologies and Frida Kahlo, Diego Rivera and Mexican Modernism from the Jacques and Natasha Gelman Collection. She also co-curated The LIGHT Show with Jorge Rivas Perez and the forthcoming reinstallation of the modern and contemporary galleries in 2022.
Previously, Hart was the curator and department head of contemporary art at Detroit Institute of Arts (DIA, 2005-2015). There, she was the organizing curator for Shirin Neshat's mid-career retrospective Detroit and Seoul, Korea. Hart facilitated Matthew Barney's Detroit-based performances SEKHU and KHU, which became Act 2 of Barney's RIVER OF FUNDAMENT film. She was the organizing co-curator for Julie Mehretu: City Sitings and more than twenty other exhibitions.
Hart graduated with a BA degree, high honors, from Williams College and a BFA, highest honors, from Kansas City Art Institute. She earned an MFA from the Cranbrook Academy of Arts, and a MA in art history from Wayne State University. Her work has been recognized by the National Endowment for the Arts, Andy Warhol Foundation for the Visual Arts, the Association of Art Museum Curators, the Joyce Foundation, the Robert Mapplethorpe Foundation, and the Metropolitan Life Foundation.
Submission limited to 3- 5 works, all 2D, 3D and video works eligible for entry
Submission Fees: 1-3 works $30, 4-5 works: $35
• Suggested image settings for best possible quality and ease of viewing for juror:
– 1024 x 768 pixels for image files
–
1280 x 1280 x 72 ppi for video files
– image submissions should not be larger than 5 mb per file
– video submissions should be .mov or .wmv file format not exceeding 5 minutes and no larger than
250 MB per file.
Audio files must be less than 30 MB in size. 
Best in Show: $500 + a solo exhibition at LA Tech in 2022/2023
Juror's Choice: $300
Two Honorable Mentions: $100 each
Submission Deadline: December 6, 2021 at midnight
Acceptance notice: December 15, 2021
Deadline for drop-off/receipt of accepted works: January 12-13, 2022
Opening Reception and Juror Talk: January 25, 2022
Exhibition Closes: February 15, 2022
Pick-up and return shipping: February 22-23, 2022
• All entries must be created by the artist(s) submitting the work within the past 5 years. Artists must be 18 years of age or older.
• Monetary values for each work must be given for insurance purposes. Louisiana Tech University does not handle art sales. Any inquiries will be forwarded to the artist.
• Media is open, but work must be ready to exhibit. Artist is responsible for providing installation hardware (wall ready, wire, cleats, etc). Unusual hanging or installation methods must be approved. Video works need to be high quality DVD.
• Work should not exceed 60" in width or 84" in height (including frame).
• 2d work must not exceed 50 lbs and 3d works must not exceed 100 lbs.
• Accepted artists must sign an Exhibition Contract.
• LA Tech reserves the right to reproduce submitted images for all media and publicity purposes.
• LA Tech reserves the right to reject work that differs from submitted images/videos.
• No more than 5 entries are allowed. 
• A non-refundable submission fee of $30 for up to 3 entries or $35 for 5 entries is required. Submission fees must be paid online at the time of entry.
• There will be two submission areas at artlatech.slideroom.com, allowing individuals to choose between submitting 3 or 5 images. Choose the submission that reflects the number of entries you wish to submit; artists cannot submit to both. If you would like to submit multiple views for one object you may submit one jpg file or multiple images merged or suggest viewing multiple views on your website or other link in the submission notes or
upload a PDF files, which can have multiple pages as long as they are 10MB or less.
Slideroom does not allow multiple images for one object without charging for each image.
• Online entry must be complete to be accepted. Submission via http://artlatech.slideroom.com will serve as artist's signature and agreement to all terms and conditions. Accepted artists will also receive an exhibition agreement at a later date.
• Communication regarding acceptance will be done via email. Please do not call to inquire about submissions.
DELIVERY:
Artists are responsible for shipping both ways. Work must be packed in sturdy, reusable boxes with proper protection (at least 3" of proper packing material between box and artwork). Return shipping *
must be prepaid and enclosed with artwork or sent to the gallery at least 1 week prior
* to the closing of the exhibition.
Work that does not have prepaid, return shipping labels may become property of the gallery 10 days after the closing of the exhibition.
Do not use packing peanuts
. Louisiana Tech University is not responsible for any damage incurred in transit. Shipping insurance is encouraged.
FURTHER INFORMATION
Gallery Director: Brooke Cassady, bcassady@latech.edu