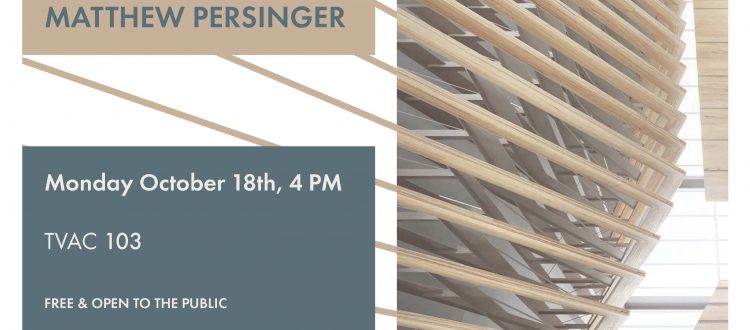 LECTURE: MATTHEW PERSINGER (Duvall Decker Architects)
MATTHEW PERSINGER, AIA, LEED-AP
CURRENT WORK of DUVALL DECKER ARCHITECTS
Monday, 18 October 2021 at 4pm in TVAC, Room 103
The School of Design has happy to welcome Matthew Persinger, AIA, LEED AP to the Louisiana Tech Campus.
Matt is a Senior Project Manager at Duvall Decker Architects in Jackson, Mississippi. Duvall Decker is an expanded design practice whose work includes architectural design, community planning, real estate development, and facility maintenance. The firm has been honored with many peer-reviewed design awards and has been selected for national design excellence projects such as the new Federal Courthouse in Greenville, Mississippi (a GSA Design Excellence project) and the new Springdale, Arkansas Municipal Complex (a Walton Family Foundation Design Excellence project).
Prior to joining Duvall Decker, he developed his skills working on large-scale projects, completing envelope studies and design detailing at Adrian Smith + Gordon Gill Architecture, and participating in all phases of the work for institutional projects at HBRA Architects in Chicago. At Duvall Decker, Matt is responsible for several of the firm's significant projects, including Cooperwood Senior Living, an innovative senior living complex nearing completion in Flowood, Mississippi, and the University of Mississippi Data Center, currently on the boards and in schematic design.
Matt is skilled at design, construction documentation, detailing, and guiding the whole project team toward the realization of its shared vision. He enjoys sharing his experience with students and young professionals, co-teaching studios at the Fifth Year Program at Mississippi State University School of Architecture and has served on the NCARB ARE 5.0 Cut-Score Committee. He has been an invited critic at Cornell University, University of Illinois Chicago, and regularly at Mississippi State. He received his Master of Architecture from Yale in 2010 and his Bachelor of Science in Architecture from the Ohio State University in 2006.