Today we had a very nice group of students taking art classes from MaryAnn Wiloughby at Cedar Creek High School. They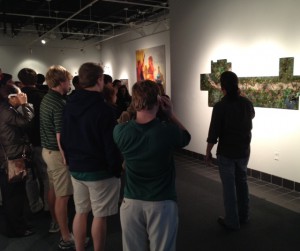 were here to view the Art Faculty Exhibition currently showing in our School of Art Galleries. Tech art professors Marie Bukowski, Mary Louise Carter, Frank Hamrick, and Todd Maggio were on hand to discuss their creative work with these young students.
The School of Art at Louisiana Tech welcomes groups like these to visit our facilities and see what our faculty and students are creating.