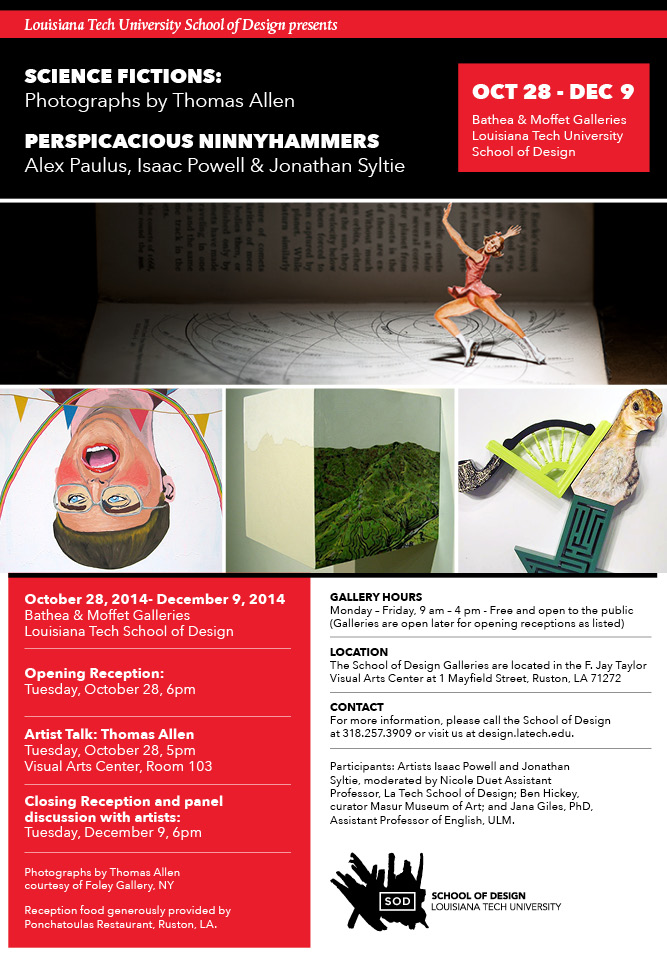 Exhibition Opening & Lecture
The School of Design invites you all to the opening reception and a related artist lecture by photographer Thomas Allen. Work courtesy of Foley Gallery, NY.
Opening Reception: Moffett Gallery, F Jay Taylor Visual Arts Center 6pm
Reception food by generous support of Ponchatoulas
Tom Allen artist talk: 5pm VAC 103
All events are free and open to the public.
Also opening: Perspicacious Ninnyhammers: works by Alex Paulus, Isaac Powell, and Jonathan Syltie
Bethea Gallery, F Jay Taylor VAC
Closing reception and panel discussion with artists: December 9, 5pm
Inspired by a View-Master and pop-up books as a child, Thomas Allen became interested in recreating these three-dimensional experiences by using mid century books and pulp fiction paperbacks as still life subjects. Allen gently cuts around the shape of his figures, physically releasing them from their two dimensional surface, and then places them in a new display of meaningful interactions. His characters are brought to life from their pages and covers by detailed lighting and selective focus, ultimately telling a distinct narrative with their newly defined settings. He explores the human experience by exploring sexuality, desire, childhood and scientific norms. In his earlier work from Uncovered and New Releases, Allen portrayed unrequited love, dramatic sexuality, violence and dynamic scenes of movement. In Beautiful Evidence, Allen plays with the findings of science, the complexity of the universe, identifying with the wonder and innocence of childhood. With an offbeat and cinematic way of storytelling, Allen continues to create photography that is animated, contemplative and intriguing.
For images and more info, see http://www.foleygallery.com/artists/focus/thomas_allen