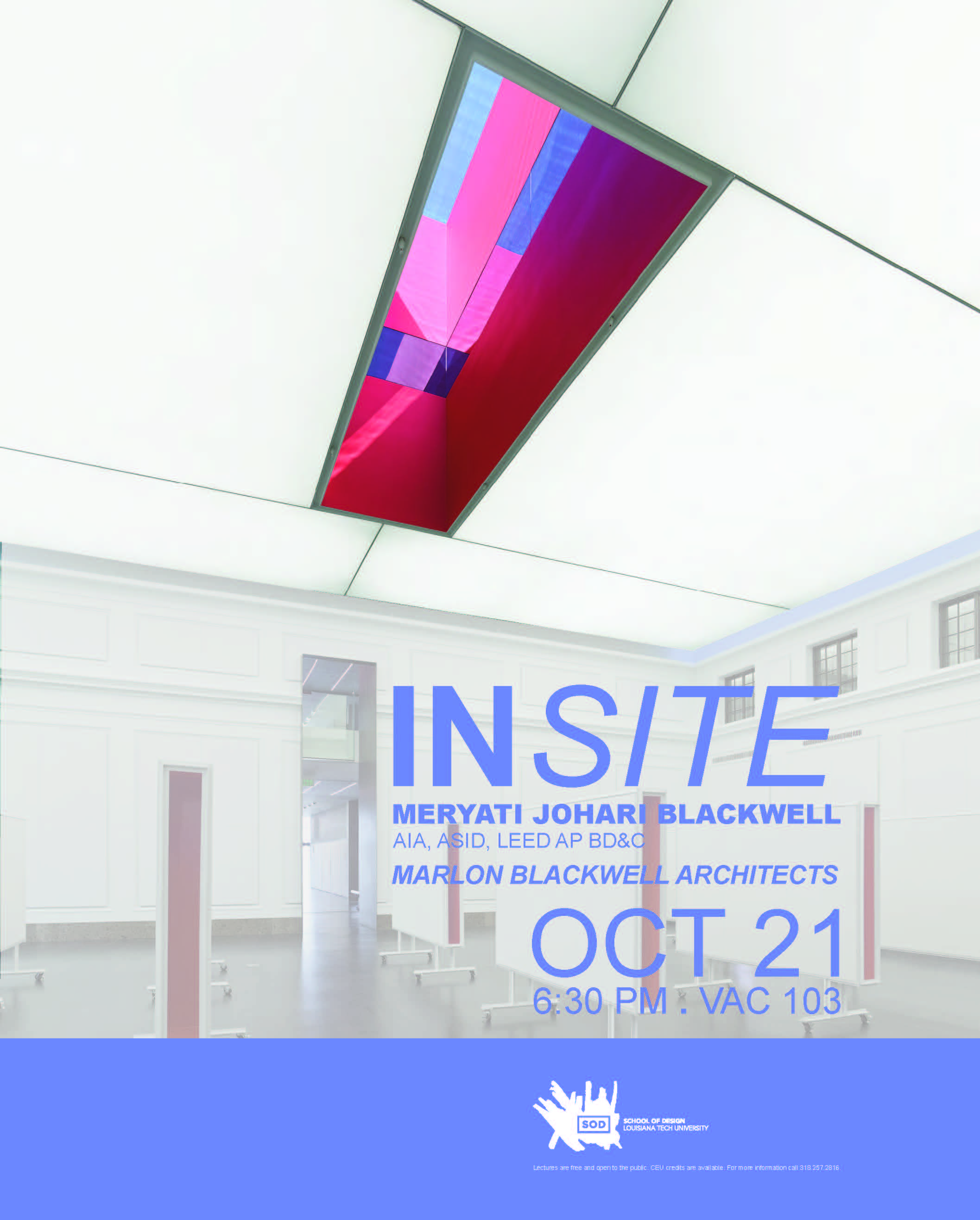 INSITE: Lecture by Meryati Johari Blackwell
INSITE   Lecture by Meryati Johari Blackwell (Fayetteville AR)
Tuesday/October 21
6:30pm
Visual Arts Center, Room 103
The School of Design is happy to welcome architect and interior designer Meryati Johari Blackwell to the Louisiana Tech University campus.
Marlon Blackwell Architects is a design centered critical practice that has been producing award winning and environmentally responsive architectural projects since its inception in 1990. The firm prides itself "in providing our clients with good buildings that not only satisfy their spatial and budgetary needs but also elevate their community's interests and the unique qualities of each site and program." The firm's monograph An Architecture of the Ozarks: the Works of Marlon Blackwell was published by Princeton Architectural press in 2005.
With a degree in Architecture and Planning and NCIDQ Certified, Meryati Johari Blackwell is both an Architectural and Interior Designer. With over 20 years experience in architectural offices in the United States and South East Asia, Meryati brings a unique perspective and a great depth of experience in her position as Principal and Director of Interiors. During her tenure at Marlon Blackwell Architects, Meryati has been integrally involved in the realization of numerous noteworthy projects, including the Crystal Bridges Museum Store, Blessings Golf Clubhouse, the Fred and Mary Smith Razorback Golf Center, Montessori Elementary and the L-Stack Residence where she also served as the project's General Contractor. An NCARB record holder and NCIDQ certified, Meryati is a member of the American Institute of Architects and the American Society of Interior Designers. She is also a LEED Accredited Professional, specializing in Building Design and Construction with experience on several LEED projects, and is currently the LEED Project Team Administrator for  projects attempting varying levels of certification within the office.
For more information about the firm, please visit:  http://www.marlonblackwell.com/
The event is free and open to the public.
CONTACT
For more information, please call the School of Design at 318.257.2816 or visit the School of Design website at http://www.design.latech.edu