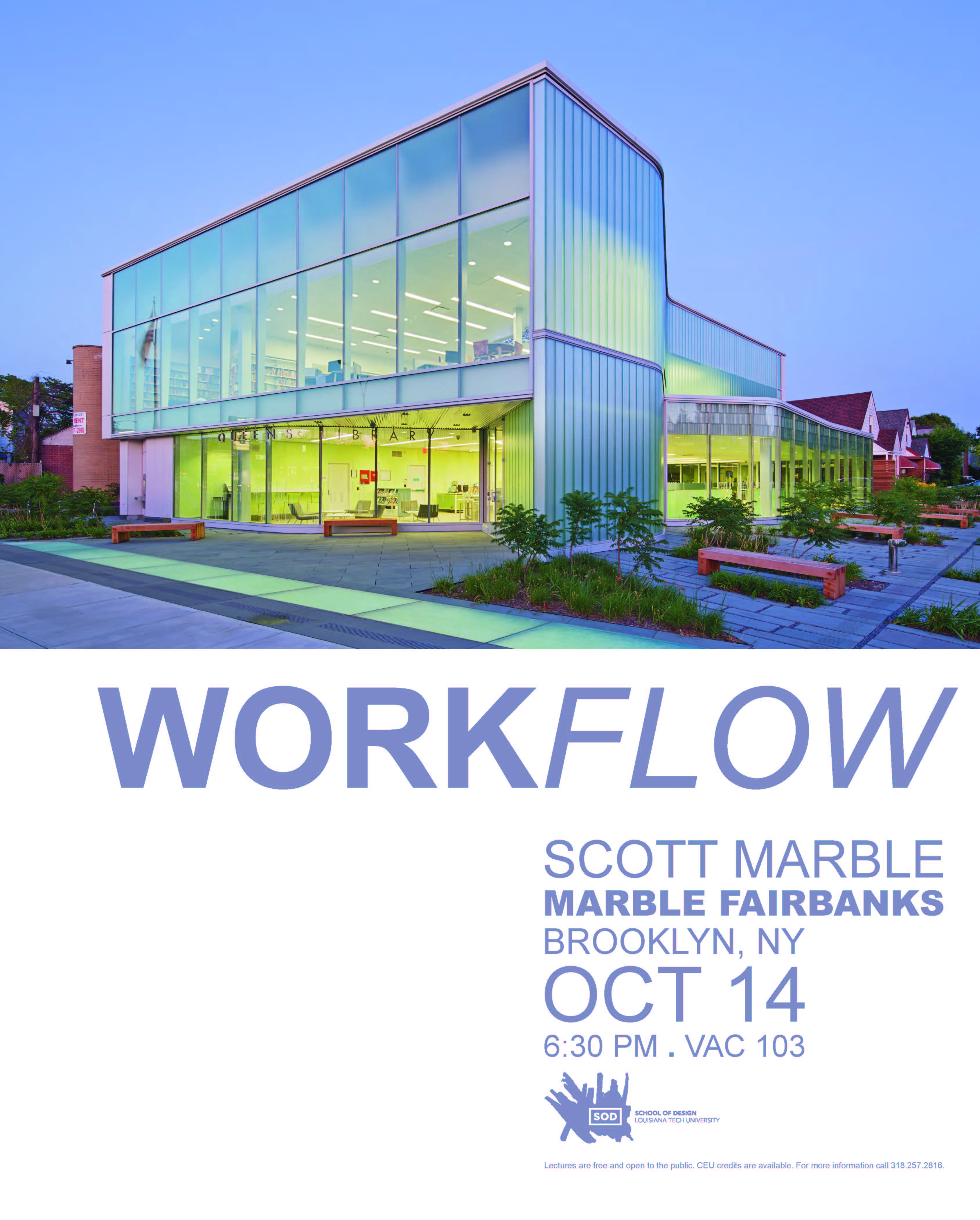 Scott Marble to discuss WORKFLOW
WORKFLOW   Lecture by Scott Marble (Brooklyn)
Tuesday/October 14
6:30pm
Visual Arts Center, Room 103
The School of Design is happy to welcome architect Scott Marble to the Louisiana Tech University campus.
Scott Marble is a founding partner, with Karen Fairbanks, of Marble Fairbanks, located in New York. He is Director of the Integrated Design Studios for The Columbia Building Intelligence Project and a faculty member at the Columbia University Graduate School of Architecture, Planning, and Preservation (GSAPP). He has a Master of Architecture degree from Columbia University, and a Bachelor of Environmental Design degree from Texas A&M.
Marble Fairbanks has designed numerous award winning projects that emphasize digital design, digital fabrication and the innovative use of Building Information Modeling (BIM). Primarily focusing upon cultural and institutional projects, the firm recently won their 10th AIA Award for their Toni Stabile Student Center. In 2012, Scott Marble's book Digital Workflows in Architecture: Design, Assembly, Industry was published by Birkhauser. In addition the firm's writings have been included in Engineered Transparency – The Technical, Visual, and Spatial Effects of Glass, Closing the Gap, and in the book Marble Fairbanks: Bootstrapping.
The firm has been awarded the "forty under forty" design award, New York Foundation for the Arts Fellowships in Architecture awards, the Emerging Architect Award, and Scott Marble was a winner in the Young Architects Forum at the Architectural League of New York.
For more information about the firm, please visit: http://marblefairbanks.com
The event is free and open to the public.
CONTACT
For more information, please call the School of Design at 318.257.2816 or visit the School of Design website at http://www.design.latech.edu