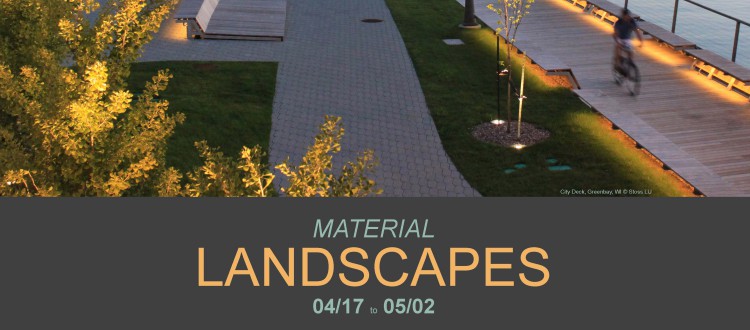 Exhibition: Material Landscapes
Exhibition: Material Landscapes 
Hale Hall Gallery
The work of eight award-winning landscape architecture firms will be featured in the exhibition Material Landscapes, which includes project photographs and drawings. The projects specifically emphasize the employment of materials in landscape design which critically engage contemporary design issues in landscape architecture. Projects such as Stoss' award winning Erie Street Plaza in Milwaukee are included. The exhibition features work by the following firms: D.I.R.T. studio; dlandstudio; ESKYIU; Kaseman Beckman Advanced Strategies (KBAS); Legge Lewis Legge; PEG office of landscape + architecture; Stoss Landscape Urbanism; and WANTED Landscape, LLC.
Gallery hours are Monday through Friday 9 am – 5 pm; or by appointment. The exhibition will run through May 2 in the first floor gallery of Hale Hall.
The exhibition is curated by Liane Hancock, Assistant Professor of Architecture in the School of Design, College of Liberal Arts at Louisiana Tech University. If you wish to schedule a visit outside of typical gallery hours, please contact Liane Hancock at lianeh@latech.edu.