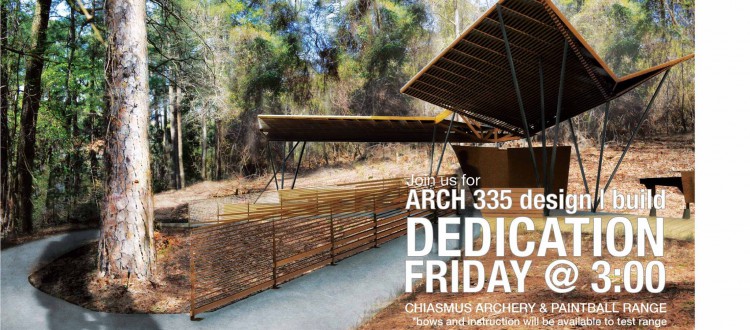 Dedication Ceremony for The Chiasmus
Louisiana Tech's School of Design Takes Aim at Improving MedCamps Experience
MedCamps of Louisiana, Inc. and the Louisiana Tech School of Design have partnered to design and construct the Chiasmus archery and paintball range. For several years students in the Architecture program's Design Build studios have partnered with various organizations in Lincoln Parish to design and build structures ranging from homes for Habitat for Humanity to park pavilions around Ruston. Last year's partnership between these two produced The Larkin Gibbs Memorial Pavillion and Gardens at the camp. This year's students have designed and are building a barrier free, wheelchair accessible pavilion and gathering space for MedCamps of Louisiana that will facilitate both archery and paintball activities at the camp.
MedCamps of Louisiana is a non-profit organization that provides a series of one week, fun filled camps each summer for children in Louisiana facing the challenges of a variety of physical and mental disabilities. These camps are offered completely free of charge and provide campers with an opportunity to participate in traditional camping activities such as canoeing, fishing, swimming, horseback riding, and much more in a modified setting to meet the needs of every camper. Each camping session is held at Camp Alabama in Sibley, Louisiana, which is a property of the Presbytery of the Pines. The Chiasmus Range will house both archery and paintball activities and will serve as a gathering space for the campers who attend MedCamps of Louisiana and guests of the Presbytery of the Pines.
A dedication ceremony will be held on Friday, May 23, 2015 at 3pm at Camp Alabama, located at 2090 Hwy 145, Choudrant, LA 71227. The event is open to the public and all are encouraged to attend.
Anyone interested in supporting the Chiasmus project or MedCamps of Louisiana in general should visit www.medcamps.org or call 877.282.0802