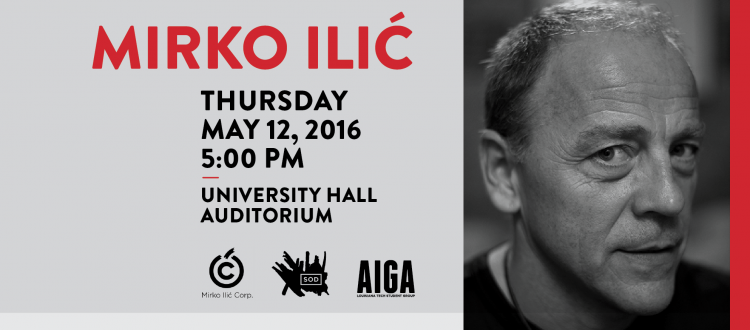 The School of Design and AIGA Louisiana Tech is happy to welcome designer and illustrator Mirko Ilić to the Louisiana Tech Campus on Thursday, 12 May at 5pm in the University Hall Auditorium.
Mirko Ilić Corp. was established in 1995 as a multi-disciplinary studio specializing in graphic design, 3D animation, motion picture titles, 
and illustration. The studio is especially known for its strong visual concepts. Before arriving in the U.S., Mirko Ilić art directed numerous posters, record covers, and books in Europe. In 1991, Mirko Ilić was art director of the international edition of 
Time Magazine.
 He became 
the art director of the 
New York Times
 Op-Ed pages in 1992.
With Milton Glaser, Mirko has taught advanced design classes at the Cooper Union and currently teaches master degree classes in illustration at the School of Visual Arts. 
Mirko has written several books with Steve Heller, including Genius Moves: 100 Icons of Graphic Design, Handwritten, and The Anatomy of Design. He has also written The Design of Dissent with Milton Glaser. 
Mirko Ilić Corp. has received awards from various organizations including the Society of Illustrators, the Society of Publication Designers, the Art Directors Club, I.D. Magazine, Print Magazine, HOW magazine, the Society of Newspaper Design, and more.
In addition to his lecture, Mr. Ilić will serve as portfolio reviewer for the senior Graphic Design students in the School of Design.