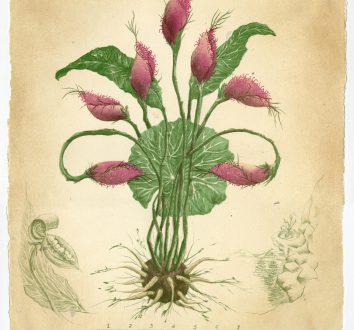 Artist Talk: Jennifer Scheuer
The School of Design is happy to welcome artist Jennifer Scheuer
 to the Louisiana Tech University campus. Scheuer will present a lecture in conjunction with a current show of her work in the School of Design Moffett Gallery. 
Seeing and Healing
Artist Lecture by Jennifer Scheuer
Tuesday, 18 October at 5:00pm
FJ Taylor Visual Arts Center, Room 103
Artist's statement about the exhibition:
Our minds seek to make connections, to categorize the familiar and the unfamiliar. In  "Seeing and Healing"  Jennifer Scheuer visualizes  "The Doctrine of Signatures," a theory that the world is made of signatures that can inform us how to heal our own bodies. Does categorizing the world in relationship to ourselves reflect a higher order, an illustration of biological structure, or simply mnemonics?
Biographical Information:
Jennifer Scheuer (born St. Cloud, MN) is an artist and collaborative printer invested in lithography and the history of print. Scheuer holds the position of Printmaking Specialist at Cornell University. Scheuer received her MFA in Printmaking at the University of Tennessee Knoxville, and received the Southern Graphics Conference International Graduate Student Fellowship in support of her thesis. She taught book arts and foundations as a graduate associate, and previously held a position as shop technician at the UTK letterpress studio. Scheuer gave a talk at the SECAC conference in 2013 related to her research titled "Doctrine of Signatures: Visualizations, Mnemonics, and the Divine." In 2010 she attended the prestigious Tamarind Institute's Printer Training Program in Albuquerque, NM. Scheuer received her BFA from Minnesota State University in Moorhead, MN, while attending undergraduate she interned at the Hannaher Print Studio at the Plains Art Museum in Fargo, ND. Her most recent work utilizes photogravure, lithography, bookmaking, and drawing.