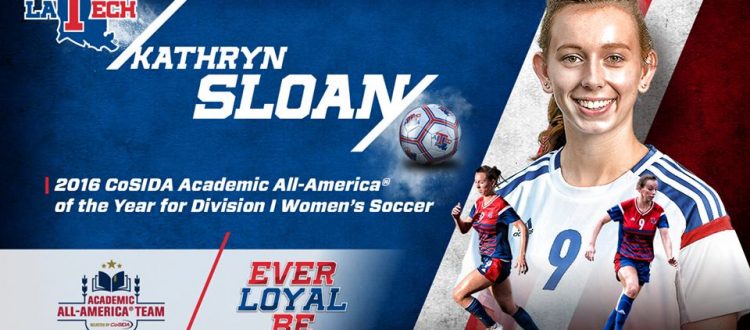 Academic All-American in the SOD!
Louisiana Tech senior forward Kathryn Sloan has received numerous awards during her stellar four-year career on the soccer field and in the classroom, but the honor she received on Tuesday trumps them all.
In an announcement made by the College Sports Information Directors of America (CoSIDA), Sloan was selected as the 2016 Academic All-America of the Year for Division I Women's Soccer.
A communication arts and design major with a perfect 4.0 grade point average, Sloan becomes the first student-athlete in LA Tech history to receive this prestigious honor. She was a third team CoSIDA Academic All-America selection last year.
The Kansas City, Missouri native has also been a three-time recipient of the Commissioner's Academic Medal as well as a three-time C-USA All-Academic First Team honoree.
"Katie Sloan has exemplified what we want our student-athletes to be during her four years at Louisiana Tech," athletics director Tommy McClelland said. "She is one of 14 student-athletes in Louisiana Tech history to be named an academic All-American and just the third to earn the honor multiple times. That's impressive enough in its own right.
"However, to be named the 2016 CoSIDA Academic All-America of the Year for Division I women's soccer is an unbelievable honor. We are so proud of Katie and all of her incredible accomplishments on and off the field."
The striker has been equally as impressive on the pitch during her four years as a Lady Techster. She has helped compile an overall record of 48-30-6 while also leading the team to three straight C-USA Tournament appearances despite being picked each year in the preseason to finish towards the bottom of the league.
"Being a great college athlete and a great student takes an immense amount of effort," said Tom Futrell, Assistant Professor of Design and Sloan's academic advisor. "It's not often you see someone who has the ability and desire to succeed in both. Everyone knows that on the field Katie is an all-conference powerhouse; however, in the classroom she's even better. During her time at the School of Design, Katie has never missed a class, never complained about a deadline and never caved under pressure. Katie is the consummate student-athlete. I know the future is bright for her."
Sloan has always been more proud of the team's accomplishments rather than her own which there are a bunch. Her name is littered throughout the LA Tech record book. She is the Lady Techsters' all-time career leader in almost every statistical category – points (89), goals (36), shots (231), shots on goal (120) and game-winning goals (13).
"What an amazing achievement and well deserved," head coach Kevin Sherry said. "The amount of determination, focus, sacrifice and hard work needed to become one of the best in your 'field' are so high that most people shy away from even attempting to be the best. Katie is a great example to others that good things do happen if you are willing to put the work in and make the sacrifices needed."
She led the team in scoring every season, including this past year when she became the first Lady Techster to be named First Team All-Conference USA (was a second team honoree in previous two seasons) after registering nine goals and six assists for a total of 24 points, all ranking in the top three in the league.
Sloan becomes the first LA Tech student-athlete to ever be selected as the Academic All-America of the Year and the first in Conference USA since 2006.
Nov. 22, 2016
from
http://www.latechsports.com/sports/w-soccer/spec-rel/112216aaa.html