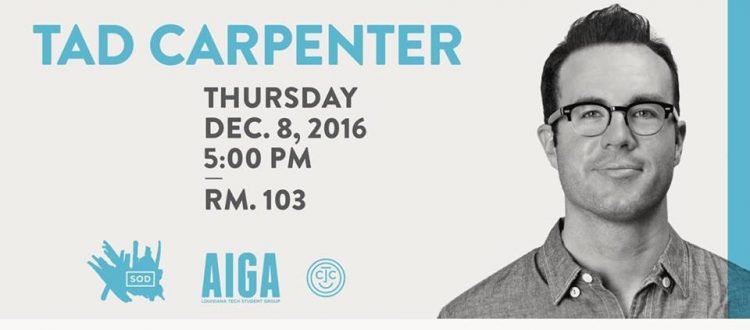 LECTURE: Tad Carpenter and the Carpenter Collective
AIGA Louisiana Tech University and the School of Design welcomes graphic designer Tad Carpenter on Thursday (8 Dec).
Carpenter Collective's focus is to design brands and experiences that emotionally engage and connect with consumers. Everything is developed in design, strategy and innovation with a whimsical wink.
Carpenter Collective's overall approach to branding, strategy, and design have gained clients ranging from Target, Macy's, Coca-Cola, Rayban, Nick Jr, Boulevard Brewery, MTV and Adobe. Their work has appeared in numerous publications devoted to design and illustration. Tad has written/illustrated nearly twenty children's books in the market today. Since 2009, Tad also teaches Graphic Design at the University of Kansas.
To learn more about Tad and Carpenter Collective, please visit https://carpentercollective.com
Work of the Carpenter Collective
Lecture by Tad Carpenter
Thursday, 8 December at 6:00 pm
FJ Taylor Visual Arts Center, Room 103