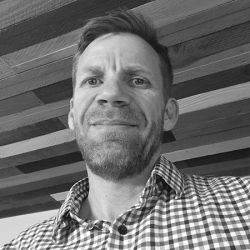 Slaughter Awarded Artist Residency
Joey Slaughter, Associate Professor of Studio Art, was awarded a 2017 Residency through the Sam and Adele Golden Foundation. He was selected from over 270 artists from throughout the world. This year, the Foundation identified 18 artists to participate in 4 weeks residencies throughout the year. For a list of the awardees, click here.
In 2012 the Sam & Adele Golden Foundation for the Arts opened its doors to a one-of a-kind artist residency for artists working in paint. In the beautiful rolling hills of central New York and just several hundred yards from the Golden Artist Colors manufacturing facility, a 19th century barn has been transformed into a 21st century artist residency, with large studio spaces and private residency apartments. Artists-in-residence will participate in a completely unique opportunity to explore the widest, most innovative range of materials and technology available today for professional artists working with paint.
Congratulations, Joey!