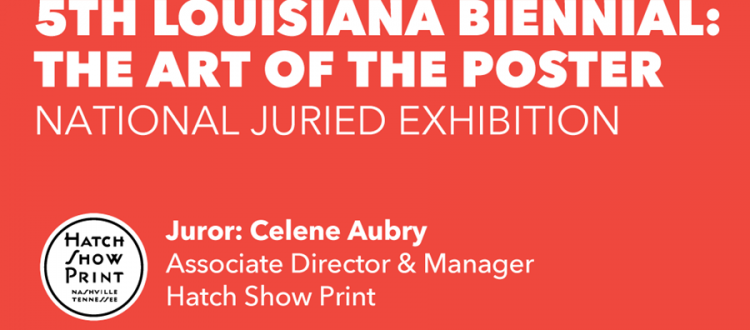 CALL FOR ENTRY:: 5th LOUISIANA BIENNIAL: The Art of the Poster
Call for Entry
Submission Deadline: September 28, 2018 11:59 (Central)
Louisiana Tech University School of Design
5th Louisiana Biennial: The Art of the Poster
National Juried Exhibition
Exhibition Dates: October 30 – December 4, 2018
This exhibition is Louisiana Tech University School of Design's first juried show to focus on Poster Art in the 21st century. Artists whose work explores the dynamic and expressive potential of the poster in contemporary art, illustration and graphic design are invited to submit work to juror Celene Aubry, Associate Director and Manager, Hatch Show Print in Nashville, Tennessee. All processes for poster design and output are eligible for submission. Subject matter is open. Special interest will be given to work that speaks to the important role that means of production plays in excellence of design. Entries must be original artwork in both concept and execution, and no portion may be of another artist's published or copyrighted work.
Juror Biography:
Celene Aubry is the Associate Director and Manager at Hatch Show Print, the legendary letterpress print shop continuously operating since 1879 in Nashville, Tennessee. Hatch got its start printing handbills and posters for a variety of entertainers throughout the South. Today, Hatch continues to function as a press—printing custom posters for musicians and events all over the world—while also showcasing print-centric art in their gallery and offering hands-on tours and workshops from their education space.
Submission Information:
Submission limited to 3- 5 works
Submission Fees: 1-3 works $30, 4-5 works: $35
Visit http://artlatech.slideroom.com to submit
Visit https://support.slideroom.com for online image/video prep help
Awards:
Best in Show: $500
Juror's Choice: $300
Two Honorable Mentions: $100 each
Important Dates: 
October 22, 2018 Work due to galleries
October 30 – December 4, 2018 Exhibition Dates
Artists are responsible for shipping both ways. Work must be packed in sturdy, reusable boxes with proper protection (at least 1 inch of proper packing material between box and artwork). Return shipping must be prepaid and enclosed with artwork or sent to the gallery at least 1 week prior to the closing of the exhibition. Do not use packing peanuts. Louisiana Tech University is not responsible for any damage incurred in transit. Shipping insurance is encouraged.

Nicole Duet 
Gallery Director
Bethea and Moffett Galleries
School of Design