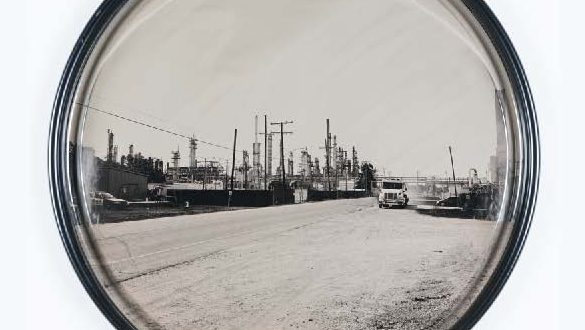 Exhibition: David Emitt Adams
Exhibition Dates: October 30 – December 4, 2018
Moffett Gallery, F Jay Taylor Visual Arts Center
POWER
David Emitt Adams
David Emitt Adams is an artist whose current practice engages historical media in order to create an informed contemporary dialogue about photography's past and present. For the series POWER, Adams traveled cross-country and created images directly on 55-gallon oil drum lids using the wet plate collodion process, an early photographic process dating back to the 1850's. He hand-built an ultra large-format camera and used a mobile darkroom so that the photographs could be developed on site at oil refineries, power plants and drilling locations across the country.
Read about Adams's work in TheWashington Post.
For more information and to view the artist's work: http://www.davidemittadams.com/
All events are free and open to the public.
Gallery Hours: 9-4pm, M-F. Extended viewing hours as announced for receptions and events. Closed for University Holidays.