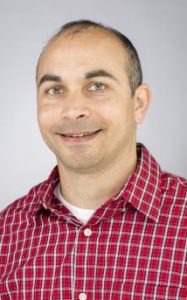 Singh is Louisiana's USGBC Innovation Champion 2018
An architect and associate professor in the School of Design, Louisiana Tech's Kevin Singh is more interested in designing students than buildings.
This fall the Louisiana chapter of the U.S. Green Building Council (USGBC), dedicated to building green buildings and communities worldwide, presented Singh its Innovation Champion Award for 2018 at its Louisiana FORWARD Symposium. The USGBC's Sustainability Leadership Awards honor people, organizations, and companies that are transforming the "built environment" and communities in Louisiana into greener, healthier places to live, work, and learn.
A Tech teacher since 2006 after several years as a practicing architect in Ohio, Singh was recognized by USGBC for his "leadership in transforming the built environment through the pioneering of new technologies and thinking forward to the needs of tomorrow." His list of initiatives during the past decade have served well the University, students, and area.
"As Director of the Community Design Activism Center (CDAC), he has made a positive impact within the city of Ruston," said former Ruston Director of Development Ammen Jordan, who worked with Singh on projects such as recycling and bicycling infrastructure. "Kevin is committed to his students, the University, and the city where he lives—but most importantly he knows that the work he does teaching, leading, and advocating will impact future generations. His unwavering dedication is centered on making a better future for all communities in Ruston.
"Kevin leads by example," Jordan said, "and he is helping to implement initiatives that will improve the city for decades to come."
Shannon Stage, Leadership in Energy and Environmental Design (LEED) Green Associate and former executive director of USGBC Louisiana, said Singh "exemplifies leadership in every way outlined in the intent of the Innovation Champion Award and deserves the recognition the chapter reserves for our state's most progressive thinkers."
"I met Kevin and some of his students in 2013 on a listening tour of north Louisiana," Stage wrote in a letter to the judges' committee in support of Singh. "Outreach to the northern end of our state had been sparse and the chapter was looking for avenues of engagement. What I found was a superstar sustainability champion at Louisiana Tech University. Professor Singh was inspiring students to embrace sustainability in his design classes, he was connecting his students to the local community where they could practice what they were learning, and he was active with local government leaders, driving change in local neighborhoods. He was already a member of USGBC and the state chapter."
Singh and his students started a USGBC Student Chapter at Tech and participated in the state chapter's program designed to connect students from several universities in the state through professional poster sessions with local architects and through online peer project review. During Greenbuild 2014, Singh and his students won a design challenge hosted during the conference by the Forest Stewardship Council (FSC), and their design was featured in the FSC booth at the Greenbuild Expo. Also in 2014, he was nationally recognized by Building Design + Construction magazine as one of America's 40 Under 40.
"Professor Singh has also mentored a Ruston elementary school in the state chapter's Green Schools Challenge," Stage said. "During my tenure as Executive Director of USGBC Louisiana, Kevin was always enthusiastic and responsive to promoting the chapter, constantly looking for opportunities to enhance the classroom experience for his students. He truly cares about building a more sustainable world, one young architect at a time."
"Whether through his passion for cycling, or campus projects, or homes for the needy, or community improvements," Tech president Dr. Les Guice said, "Kevin is teaching students how their commitment to public interests in design can build a community."
https://www.latech.edu/2018/11/01/singh-is-louisianas-usgbc-innovation-champion-2018/