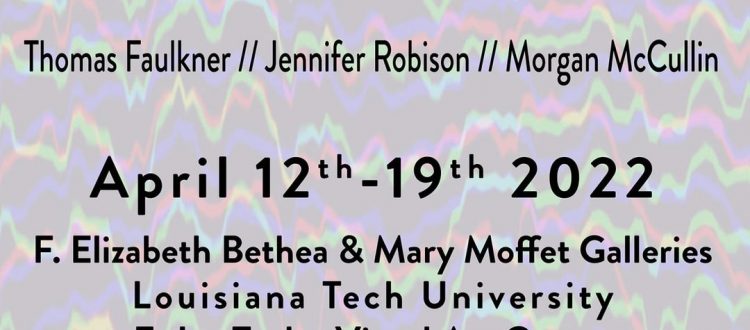 MFA THESIS EXHIBITIONS: Invention, Interference, Intervention
MFA Thesis Exhibitions
Invention, Interference, Intervention
Thomas Faulkner // Morgan McCullin //Jennifer Robison
Exhibition Dates: April 12-19, 2022
Tuesday, April 12:
5:00 pm Artist Talk at TVAC Room 103
6:00 pm Opening Reception
F Jay Taylor Visual Arts Center
Bethea and Moffett Galleries
Louisiana Tech University School of Design is pleased to announce the opening reception and public presentations by the 2022 Master of Fine Arts Candidates. The exhibition and thesis presentations are presented in partial fulfillment of requirements for completion of the Masters of Fine Arts Degree.
Featuring works by Thomas Faulkner (sculpture), Morgan McCullin (painting), and Jennifer Robison (photography). At 5pm, Tuesday, April 12, candidates will present their thesis research, which will include their creative practice, influences, and research results, followed by a Q&A session with the audience. The exhibition in the School of Design Galleries will open at 6pm.
1 Mayfield Ave, Ruston, LA 71272
For more information on these artists:
@faulkner_art
@morganjeanetteart
@jrobisonphotography