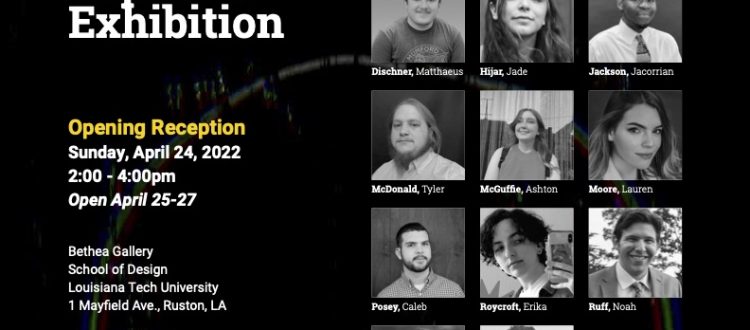 Senior Graphic Design Capstone Exhibition
Louisiana Tech University School of Design is pleased to announce the opening reception and show by the 2022 Graphic Design Senior Capstone students. The exhibition and opening will be the presentation and culmination of the students work for their Bachelor of Fine Arts in Graphic Design degree.

Students included in the Capstone show will be: Colin Butler, Sara-Eve Chmielewski, Chloe Cresse, Matthaeus Dischner, Jade Hijar, Jacorrian Jackson, Tyler McDonald, Ashton McGuffie, Lauren Moore, Caleb Posey, Erika Roycroft, Noah Ruff, Kendrick Stoker, Yufeng Wu, Madison Shinn.

The opening reception will be Sunday, April 24th from 2 – 4 pm and students will be available along with their work.
For more info: http://design.latech.edu/GDcapstone2022/
Senior Graphic Design Capstone Exhibition
April 24 – 27, 2022

Opening Reception: Sunday, April 24, 2 – 4 pm
F Jay Taylor Visual Arts Center
Bethea Gallery