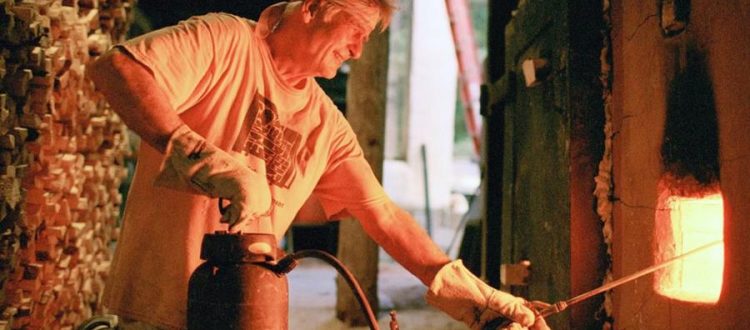 Visiting Artist Talk, Pottery Demos, & Soda Firing with Stephen Driver & Logan Hunter
Stephen Driver has been making wood-fired functional pottery and sculpture in the Ozark National Forest in Arkansas since the late 1970s. Steve started his professional career working for John and Glen LaRowe at Mark of the Potter near Clarkesville, Georgia in 1973.  In 1975 he spent a year apprenticing in England, working for two distinguished potters; Michael Leach, son of Bernard Leach, and Peter Bruce Dick. Stephen received his MFA at the University of Georgia under Ron Meyers. Stephen was Professor of Art at Brescia University and taught ceramics at the University of Arkansas at Little Rock.  In 2017 he was an Artist in Residence at Lanzhou City University in Lanzhou, China.
Stephen's work is in private and public collections, most notably the American Museum of Ceramic Art (AMOCA) and the Arkansas Museum of Fine Art.  His work has published in a variety of magazines, journals and books including The Log Book, Ceramics Monthly and Studio Potter.
For more info: http://littlemulberrygallery.com/about-us/
Logan Hunter is a ceramic artist and draftsman living in Hensley, Arkansas. Originally from Nebraska, he received his Bachelor's degree in Studio Art at the University of Arkansas at Little Rock in 2012. Logan has been an instructor at the Arkansas Museum of Fine Art and the Arts Center of the Grand Prairie for over ten years and currently teaches ceramics at Ouachita Baptist University. Logan has exhibited his artwork in drawing, pottery, and ceramic sculpture locally and nationally and received multiple art awards while attending the University of Arkansas at Little Rock, including the Arts and Humanities Research Award for his research and work building the university's first wood fired kiln.
For more info: https://www.huntermaypottery.com/loganhunter
Please email Brooke if you would like to join for demos or soda firing.
Monday April 25 – Wednesday, April 27: Soda Firing & Demos
AAWS (1301 Agriculture Dr.) Room 102

Wednesday April 27: 4:30-6:00 pm Artist Talk
TVAC (1 Mayfield Ave.) Room 103