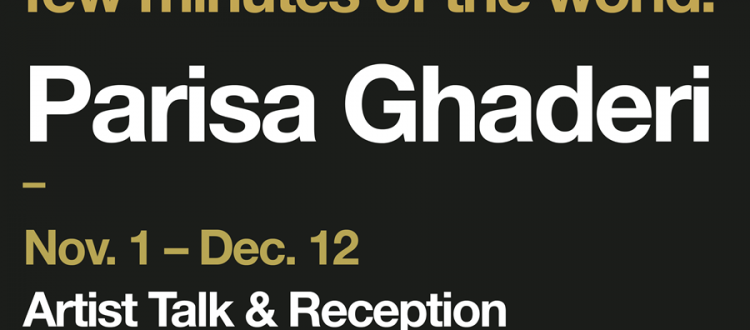 Parisa Ghaderi // I died and only missed a few minutes of the world.
Parisa Ghaderi
I died and only missed a few minutes of the world.
Artist Talk & Opening Reception
Tuesday, December 6
5–7pm
Exhibition Dates: November 1 to December 12, 2022 
Bio
Parisa Ghaderi (Tehran, Iran), is a visual artist, designer, curator, filmmaker, and educator. She earned her BA in Visual Communications from Art & Architecture University (Tehran, Iran), and her MFA in Art and Design from the University of Michigan (USA). Her work has been exhibited nationally and internationally including South Asian Women Collective (Shirin Gallery, NY), the 6th International Media Arts Award (Queensland, Australia), ExperimentoBio, (Spain), A Woman house or a Roaming House? (A.I.R. Gallery, NY), Musée d'Art moderne de Paris, (Paris, France), The Eli and Edythe Broad Art Museum at MSU, (East Lansing, MI) and the Red bull House of Art (Detroit, MI). Her work is featured in The Huffington Post, The Brooklyn Rail, Video Focus (France), Nineteen Sixty Nine (University of California, Berkeley), the Michigan Daily, Unite Women (online), and the Visual ARTBEAT Magazine (Austria). She has also won numerous awards for her short films.
Artist Statement
"Nature is bigger than us; we're a tiny dot, barely visible from a long distance. Yet, we feel otherwise. We feel like we are the emperors of this land; we step on it, conquer it, and kill for it.
"In this video haiku series, I juxtaposed a video I shot with a found footage of a natural disaster in the wild. The inspiration comes from a short clip I watched on NPR Instagram of the toxic cloud formations in Bogota, which I first read as an installation or a piece of art. The poetic nature of these toxic foams moving across the city made me think of all the poetry to death and life, despite it being eerie and dramatic. I believe the videotaped death negates death as a simple terminal and brings attention to how it enriches our lives. In the end, everything perishes except life."
– Parisa Ghaderi
Louisiana Tech University
School of Design Galleries
1 Mayfield Avenue
Ruston, Louisiana 71272
All events are free, accessible and open to the public.
Gallery hours: Monday – Friday, 9am – 4pm
The galleries will be closed during quarter breaks and University holidays. Extended viewing hours may occur for artist lectures as announced.