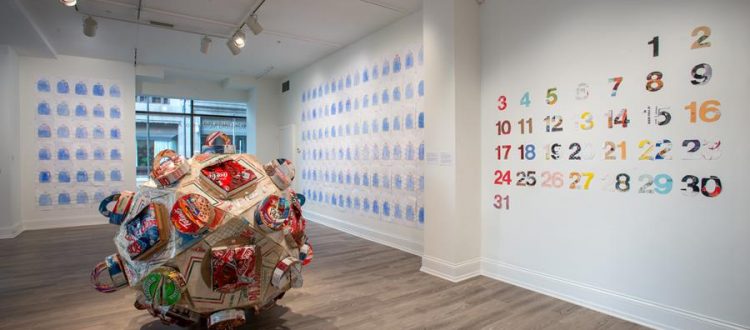 David Hamlow // In Arcadia Ego
David Hamlow
In Arcadia Ego
Artist Talk & Opening Reception
Tuesday, November 1
5–7pm
Exhibition Dates:
November 1 to December 12, 2022 
Bio 
David Hamlow is an installation artist working in repurposed packaging and post-consumer waste primarily harvested from his own daily consumption. Hamlow is the recipient of six Minnesota State Arts Board individual artist grants, two McKnight Foundation/Prairie Lakes Region Mid-career grants, and a New York Foundation for Contemporary Art Emergency Opportunity Grant.
Hamlow exhibits regionally nationally and internationally. Recent solo installations include Foreign Correspondent at CICA Museum, Gimpo-Si, Republic of South Korea, Immiscible at the Washington Pavilion, Sioux Falls SD, and Mirror Stage at the Minnesota Museum of American Art, St. Paul MN.
Hamlow teaches Introduction to Visual Culture at Minnesota State University in Mankato Minnesota. He lives and maintains a studio in Good Thunder MN.
Artist Statement
"My work addresses the enormous energy—potentially positive or negative—inherent in daily, quotidian action. For over 20 years I have been conserving the packaging and post-consumer ephemera resulting from the majority of my own purchases. These materials are then transformed into modular units that accrue to form both two and three-dimensional elements of large-scale installations. By immersing the viewer in the results of a single career in consumption, I underline the startling negative impact of our current dependence on an unsustainable consumer model, while suggesting a creative—and often collaborative—alternative future."
– David Hamlow