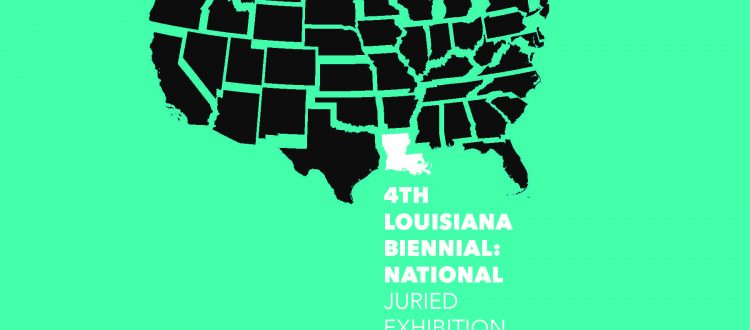 SOD hosts 4th Louisiana Biennial
4th Louisiana Biennial: National Juried Exhibition

Opening Reception and Juror Lecture by Rachel Cook, Curator DiverseWorks, Houston, TX


Lecture: Thursday, January 26th  5pm TVAC 103

Opening Reception and Awards Presentation: 6pm
The Louisiana Biennial is the School of Design's fourth national juried exhibition. This is a multi-media show for two and three-dimensional works, as well as video and installation works exploring any theme. Through a nationally advertised call for entries The School of Design received over 175 artist submissions and a total of over 800 artworks from across the United States. The overwhelming response reflects a continued commitment and passion for the arts in our communities. We hope that the exhibition not only highlights regional artists, but also exposes all of us to contemporary works created around the country.
Statement from Juror Rachel Cook:
"It was a great pleasure to participate in the juror process. It is always such a stimulating experience to see what various artists are working on across the country. I have a great admiration for artists continuing to produce and expand their creative and adventurous ideas. I selected a series of works to be included in the exhibition that I felt were provocative either in their use of materials–through experimentation with different mediums– or the ideas behind the work–some of which dealt with the artist's exploration of their own background through frankness and humor. I am looking forward to seeing all the works together in the gallery space, as well as visiting with the faculty and students at Louisiana Tech University. "
Participating artists: Deirdre Argyle, Leticia Bajuyo, Win Bruhl, Elizabeth Claffey, Jonathan Clayton, Aaron Collier, Anita Cooke, Kerstin Dale, Nick Davis, William DePauw, Craig Dongoski, Annie Donovan, AnnieLaurie Erickson, Ashley Feagin, Sherman Finch, Shawna Gibbs, Meghan Grubb, Leslie Greusbeck, Garrett Hansen, Camden Hardy, Shana Hoehn, Chris Ireland, Kevin Jones, Tressa Jones, Kevin Kennedy, Jasper Lee, Andy Mattern, Geoffrey Miller, Sean Morrissey, Joseph Mougel, Lake Newton, Kristin Powers-Nowlin, Stephanie Palazeke, Vesna Pavlovic, Jeffrey Rinehart, Judith Row, Yoshie Sakai, Vitus Shell, Fazilat Soukhakian, Jeremy Speed Schwartz, Adrianna Speer, Morgan Stephenson, Diana Synatzske, Chris Taylor, Kristine Thompson, Amelia Toelke, Samatha VanDeman, Emily Verkamp, Thomas Whitworth, Michael Yankowski
Juror Biography:
Rachel Cook is a Curator at DiverseWorks in Houston. Her curatorial work reconsiders the relationship between images and objects, and investigates gestural language and methods of delegation embedded within performative and participatory work. While at DiverseWorks, she organized commissioned projects by Keren Cytter, Danielle Dean, Tony Feher, Oliver Herring, Chelsea Knight, Liz Magic Laser, Kristin Lucas, Pepe Mar, Heather and Ivan Morison, Sheila Pepe, Sondra Perry, Mark Tribe, and Wu Tsang. Her writing has appeared in a number of art journals, including Modern Painters, Flash Art, and Prospect 3's catalog. She is currently the Guest Editor of Art Lies for Gulf Coast, a journal of literature and fine arts.
Prior to joining DiverseWorks, Cook worked for dOCUMENTA(13)'s publication team, and was a fellow for the International Studio & Curatorial Program in New York. Cook holds a MA from the Center for Curatorial Studies at Bard College and a BFA from the San Francisco Art Institute. Last year she received a Curatorial Fellowship from The Andy Warhol Foundation for the Visual Arts to research a series of Walker Evans' photographs from the African Negro Art exhibition at MoMA in 1935.
The School of Design at Louisiana Tech University has two gallery spaces available to artists working in all media, including: painting, drawing, video, printmaking, installation, sculpture, photography, ceramics, fiber, and digital works. The mission of the galleries at The School of Design at Louisiana Tech University is to contribute to student and community learning through exposure to the work and philosophy of nationally recognized contemporary artists working in the visual arts.
The gallery committee is a fully volunteer group made up of dedicated Tech faculty, responsible for all exhibitions at the School of Design: Nicole Duet, Frank Hamrick, Raluca Iancu and Kyle Triplett.
All events are free and open to the public
Reception food generously provided by Ponchatoulas Restaurant, Ruston, LA