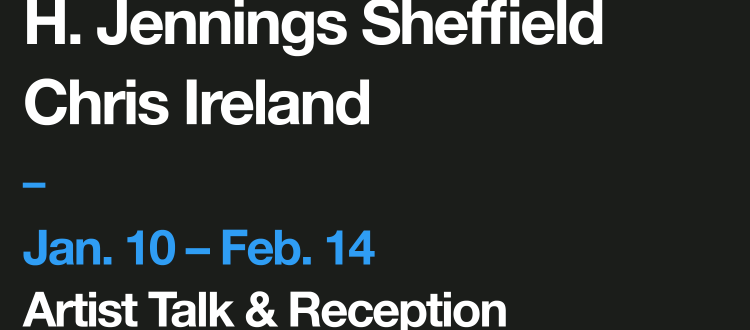 H. Jennings Sheffield + Chris Ireland
Exhibition Dates: January 10 to February 14, 2022
Elizabeth Bethea Gallery 
Artist Bios
H. Jennings Sheffield
H. Jennings Sheffield was born in Richmond, Virginia. She is a contemporary artist working in lens-based media, video, and sound. Sheffield received her BFA in photography and digital media from the Atlanta College of Art and her MFA from the University of Texas at San Antonio in photography and new media. Her core research is highly concept-driven inspired by memory, moment, and time and often utilizes familial imagery to convey both the intimacy and the diverse roles and relationships individuals play within a family unit. The methodologies utilized to create her work can take up to two years to complete. As a result, Sheffield periodically takes on landscape-driven projects that begin with just her responding to the landscape. She is interested in landscapes that tend to be fleeting. Similar to her core research, Sheffield approaches the landscapes by looking for and observing changes over time.
Chris Ireland
Chris Ireland explores representations of family and personal experience through the vernacular of photography. His works have been featured in exhibitions at numerous venues both nationally and internationally, including the Center of Contemporary Art in Seattle, WA, the Colorado Photographic Arts Center in Denver, CO, Filter Photo Space in Chicago, IL, Umbrella Arts Gallery in New York, NY, the San Antonio Public Library, and the Houston Center for Photography.Chris was also a member of co-op 500x Gallery in Dallas, TX. Ireland lives and works in the Fort Worth, TX area, where he is a Professor of Art at Tarleton State University, along with be. He currently heads the Department of Visual Arts & Design, and teaches courses in digital imaging and new media.
Statement
Through their alternative approaches, Chris Ireland and H. Jennings Sheffield utilize familial imagery to convey both the intimacy and diverse roles and relationships individuals play within a family unit. These roles can create contrasting moments ranging from the mundane to chaotic.
Chris Ireland's photographic diptychs explore the psychology of ritual in the artist's Northeast Ohio family through photographic works spanning the last 10 years. The photographic diptychs highlight the daily patterns and routines that define the family in the face of loss and change over time. H. Jennings Sheffield's work is based on images she photographed over a four-month period of time; documenting her life every 30 minutes as she performs her daily roles of artist, mother, professor, wife and daughter. Utilizing her family as inspiration, she explores the multiplicity of identity we all experience as we navigate our daily roles. The performance of each individual role is constantly being encroached upon by the demands of the other roles, thus, creating the tethering-effect. The artists intentionally title their work with time stamps to offer a point of reference to the images and add context to the depiction of family life.
The furniture and framed family photos in the exhibition were created from a blog project the artists have been collaborating on since the pandemic in 2019/2020. For this project, one artist posts an image from their family archives and the second artist responds with a story from their childhood inspired by the image. The installation is essentially a live show of this blog. It includes furniture and chairs which serve as reference to the family living room. It contains four projectors looping the images/archives on all four walls. The artists' images are projected on opposing walls while memories/stories inspired by these images are written and read by the other artist. This work references the visual similarities and nostalgia already part of our collective consciousness and in our family vernacular. While the mounted wall other images lend themselves to a more open-ended interpretation. The space allows the viewer to enter the family living room, sit down, and investigate the images and reconsider their own personal childhood narratives.